Personal Protection Categories
COMPREHENSIVE LINE OF
BALLISTIC PLATES
We at Hardshell specially design Hard Armour Plates to offer unmatched protection for wearers, particularly in high-risk scenarios.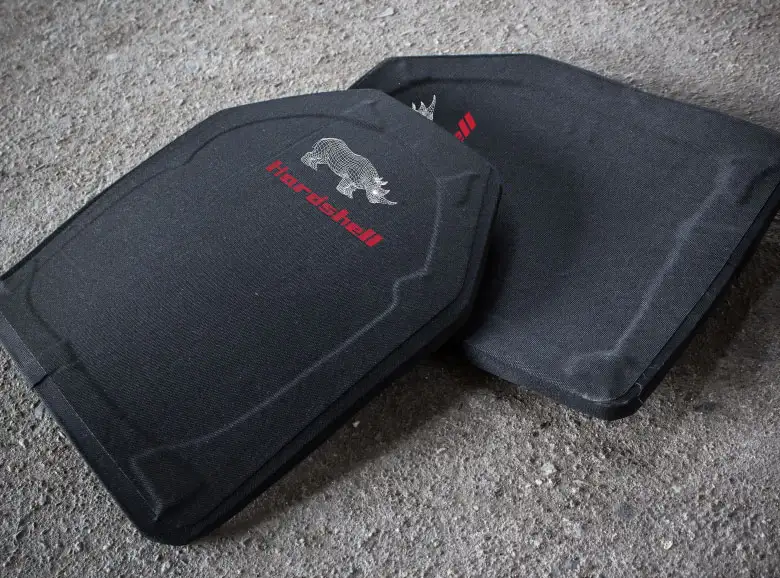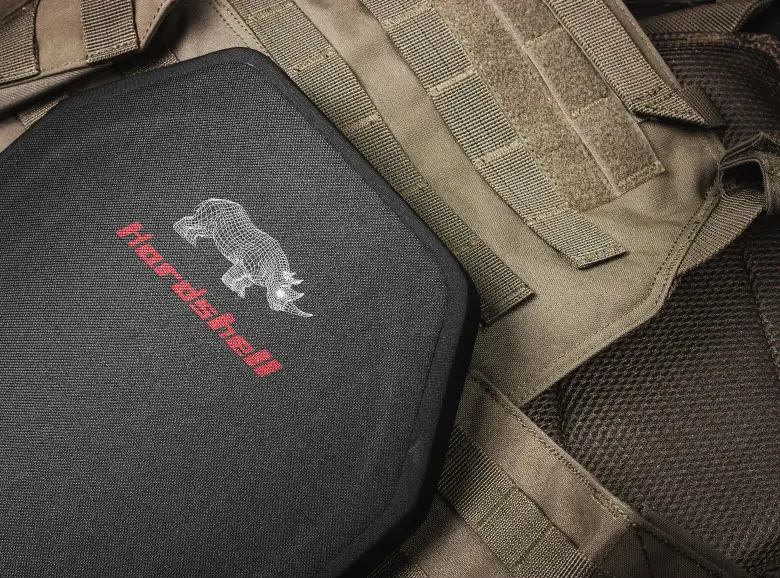 Ballistic plates are also known as bulletproof plates, body armour plates, and armour plates.
Designed for a comprehensive range of protection levels, sizes, and shapes ranging right from flat to multi-curved, the Rhino series body armour from Hardshell has proved to be a marvel in the realm of security. Be it military units, police officers, or any other law enforcement officials, all of them prefer wearing lightweight body armour during patrolling and surveillance.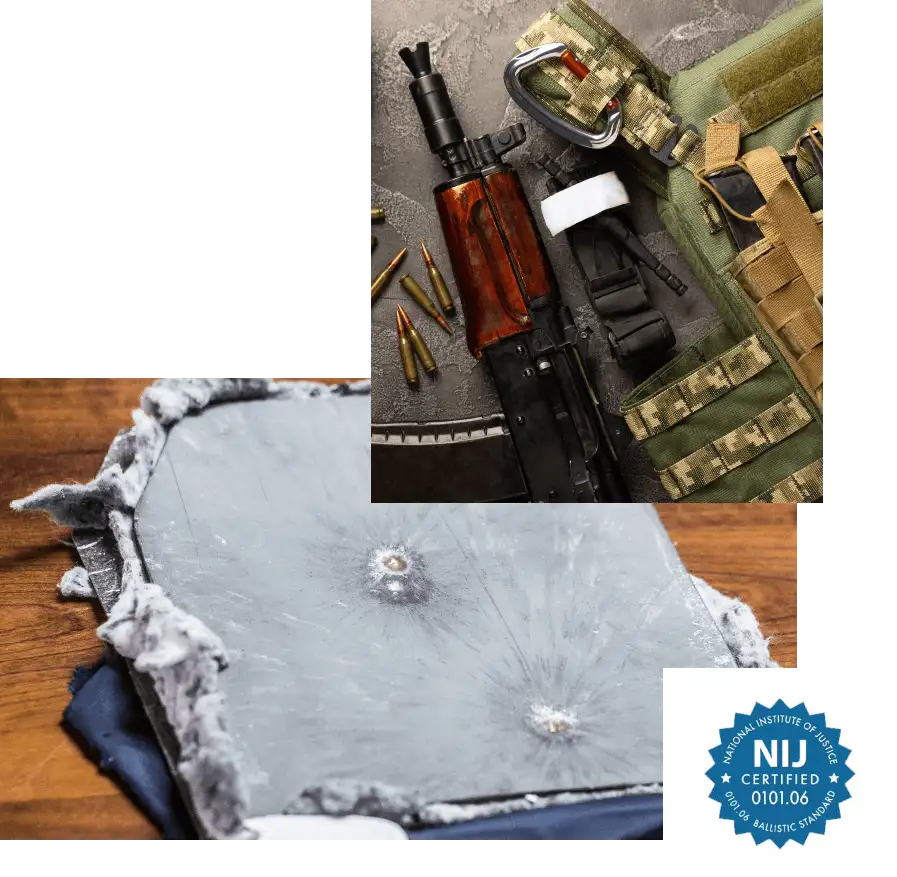 THE HARD ARMOUR PANELS FROM OUR RHINO SERIES ARE IDEAL FOR ALL YOUR HIGH-THREAT LEVEL BALLISTIC REQUIREMENTS.
Having the ability to resist even the harshest of environmental conditions,
These panels are strategically designed to offer maximum safety and comfort. Some of the most prominent features and characteristics of Rhino series Hard Armour Panels include the following:
Panels made of either ceramic-based hybrid composite or high-performance polyethene
Lightweight manufacturing materials make them effective at absorbing ballistic impacts allowing energy dissipation
All the panels are covered with PU or Nylon based fabric to make the inserts highly durable
The entire series has protection levels that range from NIJ III, NIJ III+ to NIJ IV, and can be used in conjunction with soft armour or as stand-alone inserts
Dissipate energy by containing spall, debris, and residues after ballistic impact
Strategically designed to offer active resistance to fungus and microbial growth and offers fluid resistance as well.
The Rhino series plates have multi-hit resistance to a wide range of ammunition when used in conjunction with the soft armour (ICW).
On the other hand, the standalone (STA) plates can withstand ballistic threats without the use of bulletproof vests. There were times when options for critical security used to be only very few. But now, with the rapid advancement in technology and innovation, Armour plates have taken a center stage while ensuring the safety of those performing their duties in high-risk zones.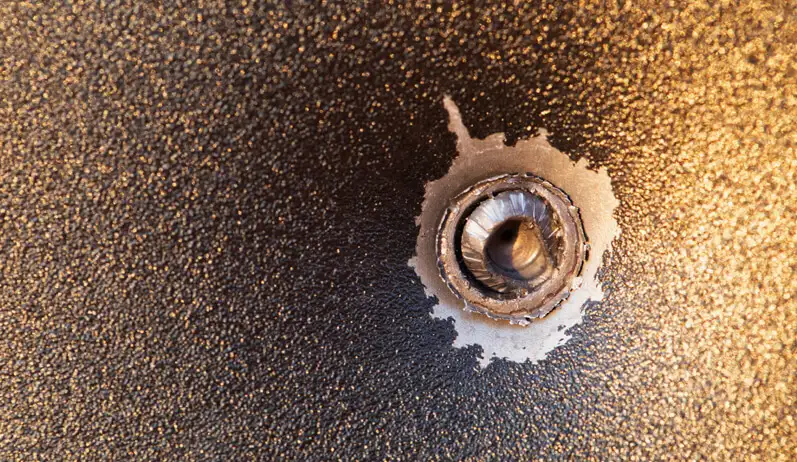 Are you facing difficulty in selecting the accurate body armour level? If yes, keep reading this information that would assist you in choosing the
best and more precise Armour plates
.
WHAT ARE THE MAIN TYPES OF
HARD ARMOUR PLATES?
There are mainly 2 types of armour plates:
ICW (in conjugation with armour)
STA (standalone armour).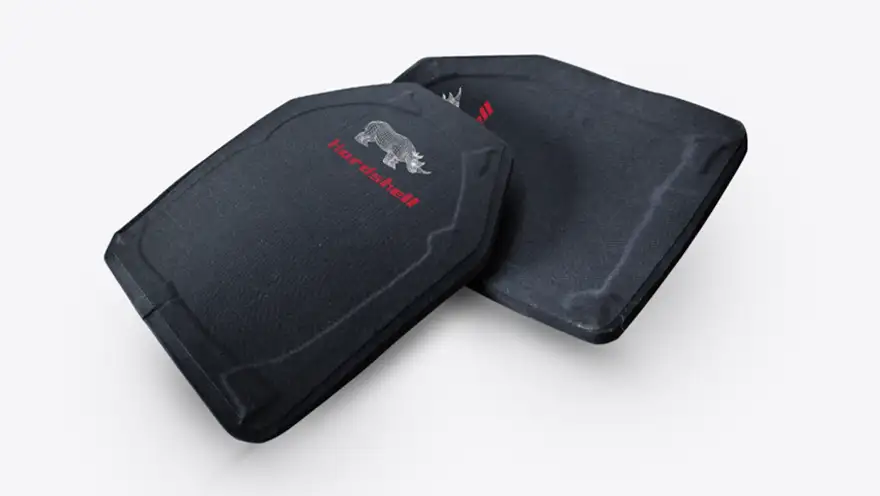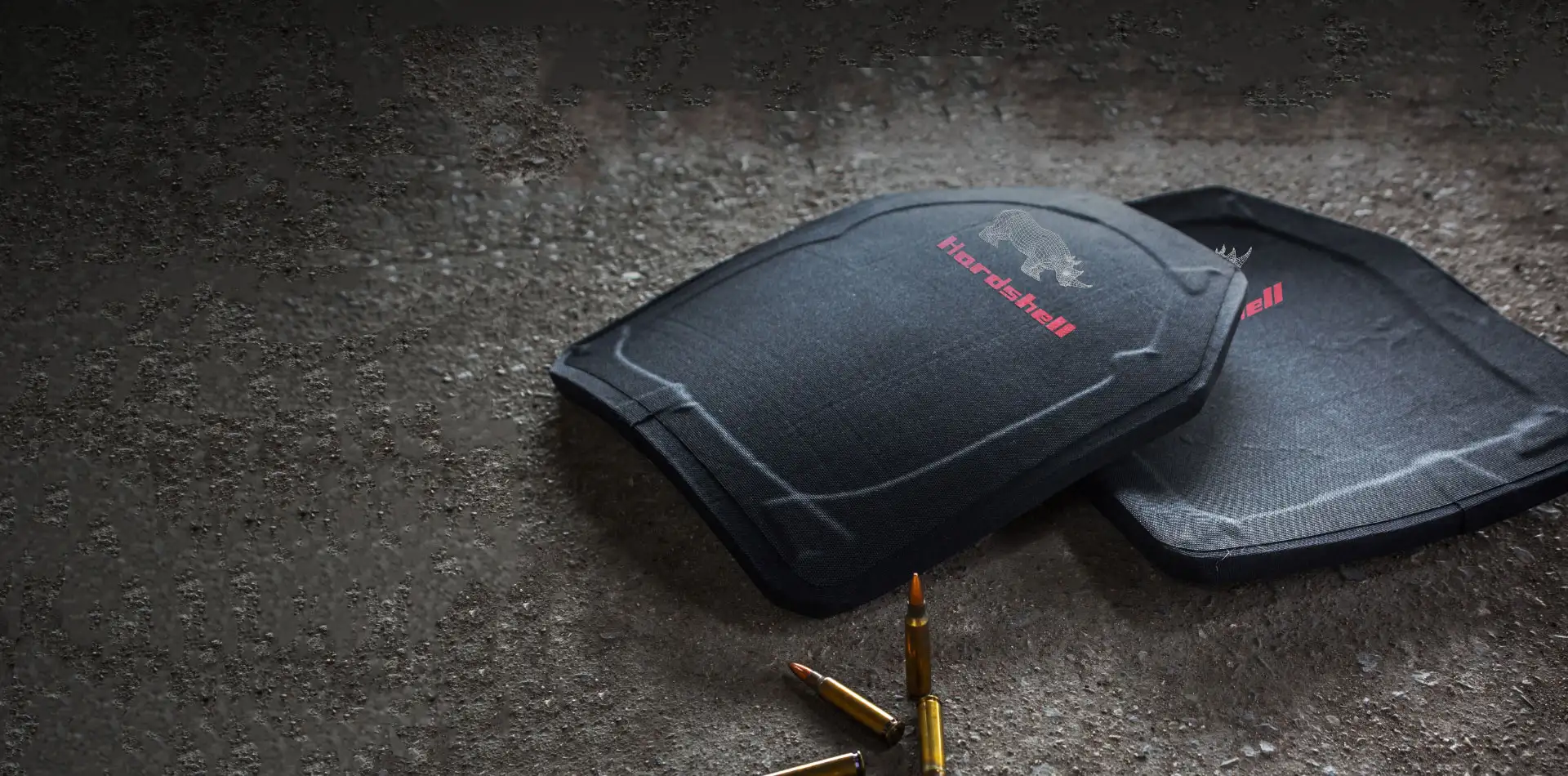 The ICW (In conjugation with armour) plate
Before you choose any armour plates to serve your purpose, it is quite necessary to go for check with NIJ standards. The ICW (In conjugation with armour) plate needs to be used in conjunction with a bulletproof vest to stop the bullets. It performs best with IIIA ballistic vest and has been planned mainly with a front pocket that is sufficiently large to fit in an ICW plate.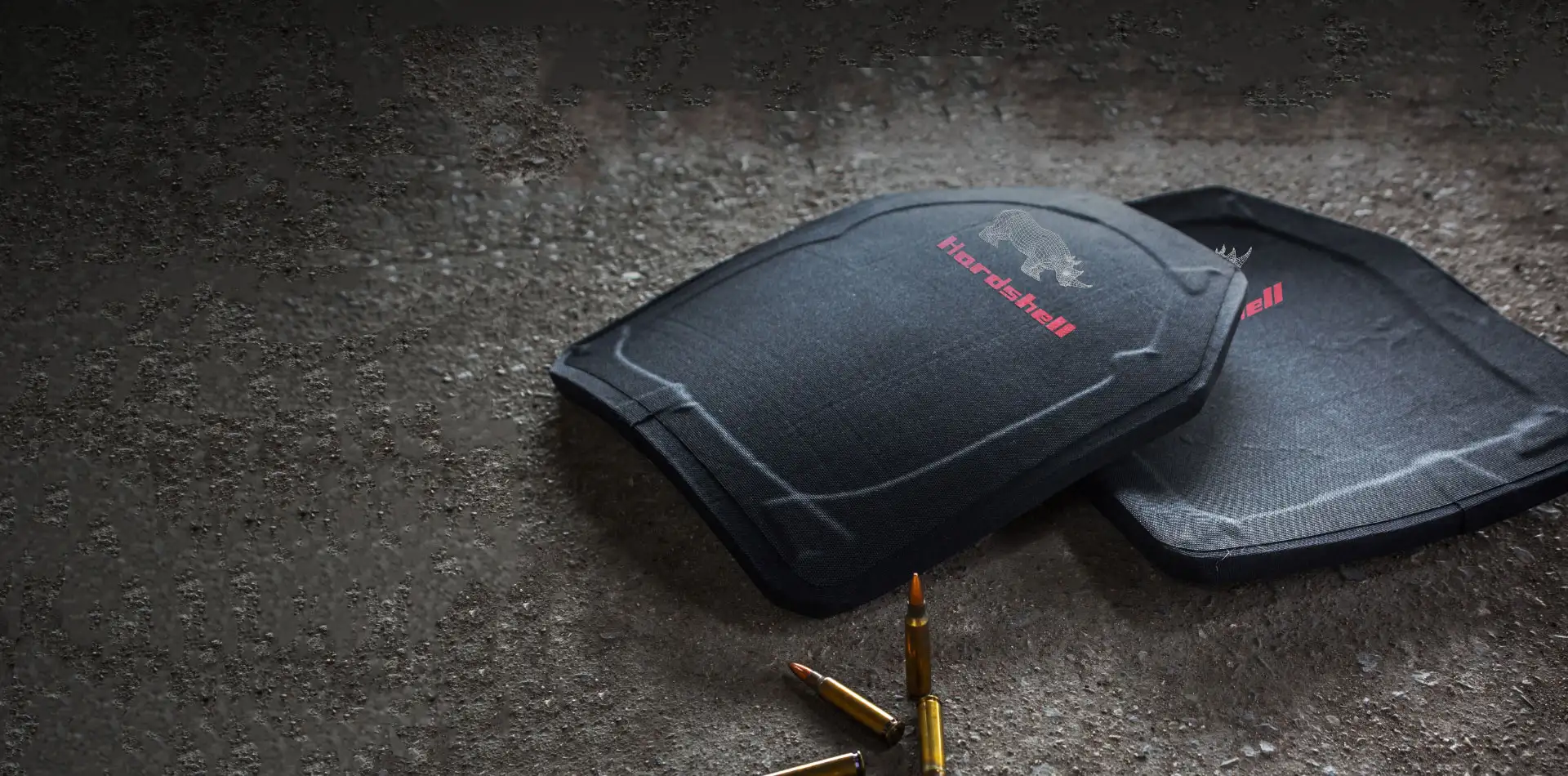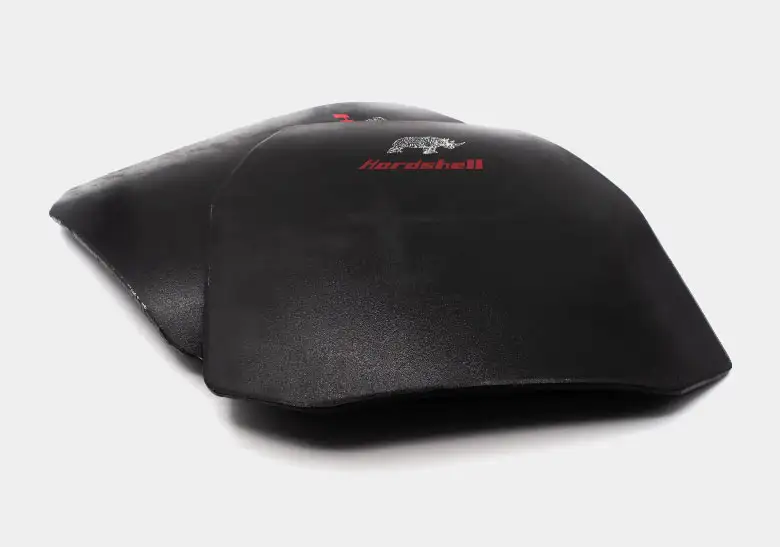 Design
As for the design of the Hard Armour Plates, we provide our customers with a comprehensive range of choices.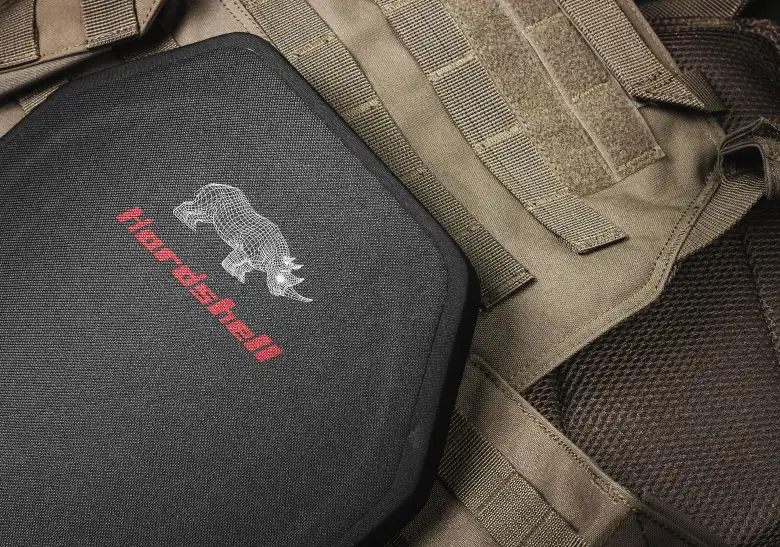 Fabric Cutting / Stitching
The fabric cutting and designing of the Hard Armour Plates are carried out as per the design and specific customer requirements.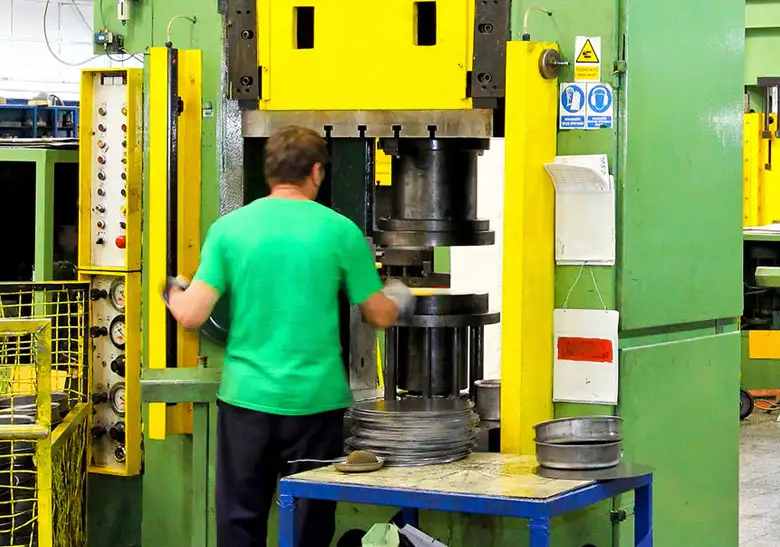 Hydraulic Compression
The pre-compressed layup is moulded into a helmet shell under high temp and pressure.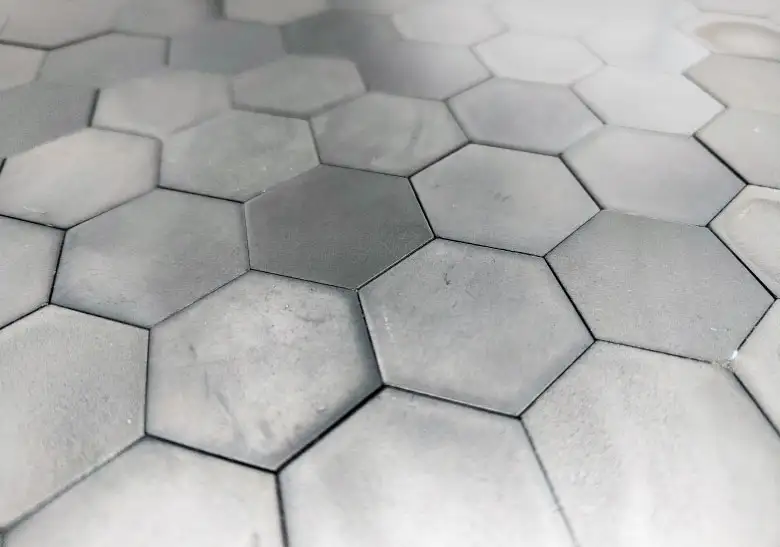 SiC, B4C and Al2O3
Depending upon the design criteria, ceramics such as SiC, B4C, and Al2O3 may or may not be added to the HAP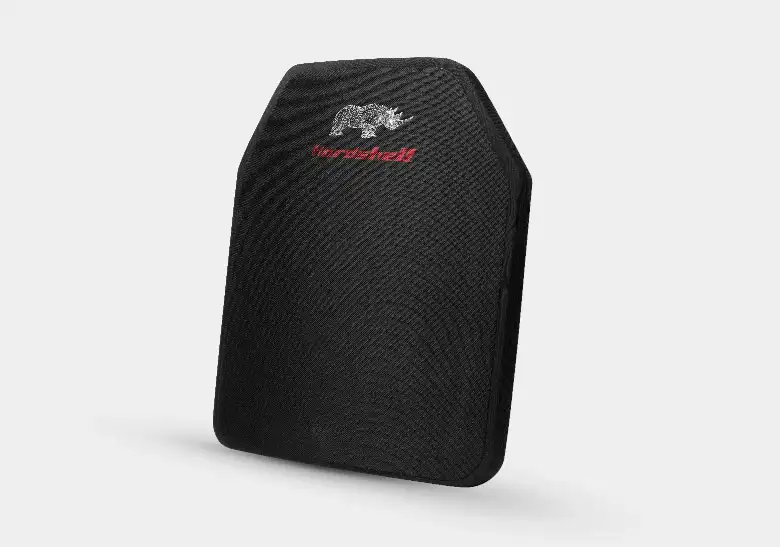 Component Assembly and QC
QC and Assembly are the most important processes in the manufacturing of Hard Armour Plates
FREQUENTLY ASKED QUESTIONS
There are some basics of armour plates legislations, rules, and norms concerning the official permission, and you must keep them in mind.
Armour plates may be shipped to 49 states of the United States. People seeking to buy these armour plates in Connecticut may do so merely via face-to-face transactions. Armour plates may be sold to anybody, and there is no requirement for a background check. These armour plates may be sold at gun stores, exhibitions, over the phone, and through catalogues.
You may not take, send, ship, or bring armour plates outside the United States without centralized permission. Armour plates may not be shipped to addresses in Connecticut.
A plate or plating built to mitigate ballistic threats is called an armour plate. As for the material they are made of, there are several alternatives, but the most common ones include Aluminum Oxide, UHMWPE, Boron Carbide, and Silicon Carbide.
Hard armour plates are the most efficient ballistic armour plates as they can stop rifle threats or rounds above 0.30 cal.
Steel plates fell out of favour in the 17th century when firearms turned out to be stronger. However, armour plates made from diverse new-age materials are in use even today.
The rules or regulations concerning the sale, purchase and use of hard armour plates differ significantly based on your region. Ensure to check your national or local rules or laws before selecting your armour plates.
When it comes only to gun threats, soft armour plates can serve the purpose; however, when there are considerable dangers in military and law enforcement, hard armour plates come into play. The level lll hard armour plate is the 1st level assigned by NIJ to deliver protection from rifle threats. It is heavier than soft armour plates; however, it provides great protection than Soft.
Level lll armour plates can be made from diverse materials such as ceramics, steel, and ultra-high molecular weight Polyethylene. All these materials are best; however, polyethene or ceramic is better than steel.
If you are seeking to wear armour plates that deliver ballistic safety against level III dangers, you would require a bulletproof vest with pockets or a plate carrier specially intended to carry a Hard armour panel.
When you are in a dangerous situation, it is significant to be equipped with sufficient body armour, as it ensures more safety. Hard armour plates are more effective and offer more protection against rifle rounds and dangers than soft armour plates.
One of the most significant things to consider while purchasing armour plates is weight. You need your armour to be lightweight so that you can go around without any limits. When it comes to stopping rifle rounds, it is significant to have the hard body armour made up of ceramic or polyethene. A steel level 3 armour mainly weighs anywhere from nine to eleven pounds. But the modern polyethene armour plates commonly weigh around 3.5 to 5 pounds, which makes them more suitable to wear.
Level 3 armour plates stop most typically utilized calibres. They can effortlessly stop anything that soft armour plates do, and they stop rifle rounds also. Besides, these plates are rated to stop shotgun rounds and many other threats.
The NIJ (National Institute of Justice) sets the levels of safety for body armour that are Level ll, Level llA, Level lll, Level lllA, and Level IV. They are helpful against ballistic risks and make sure that they meet standards while ensuring a significant level of protection. The National Institute of Justice has categorized these into two known as Soft and Hard armour plates.
As the name implies, these armour plates are soft or flexible, yet their components are significantly stronger than steel armour plates. They are light and made particularly for law enforcement officers. These armour plates are made of fabric-like materials with a higher level of strength, such as Kevlar, Twaron, and Spectra. Let us discuss the levels of soft armour plates in detail:
LEVEL LLA
This soft armour plate is considered to be the least efficient. However, it is the most concealable armour plate for those who require it to be undetected, like undercover agents, law enforcement officers, and intelligence groups.
LEVEL LL
Level ll armour plates have a perfect balance between flexibility, weight, and protection. This level of armour plates covers particular shotgun fire and handgun.
LEVEL LLLA
It is the most commonly recommended armour plate level that delivers safety against most rounds of shotguns and handguns. This level is capable of stopping magnum rounds from shotguns.
Hard armour plates (NIJ Level LLL and Level IV) are manufactured by making use of steel, ceramics, and polyethene. These plates find applications in bulletproof vests or plate carriers. The plates that are made using ceramics are also coated with trauma-absorbing material for enhanced protection. Due to their sturdy features and quality parameters, these hard armour plates are heavier and less flexible and pliable when compared to soft armour plates. When used in dangerous situations in the military or law enforcement, these hard armour plates protect users from higher calibre rifle shots.
LEVEL LLL
The world of hard armour plates starts from this level, and this level is rated especially for rifle rounds. It is heavier than soft armour and delivers excellent protection against rifle threats.
LEVEL LV
Level LV hard armour plates are the best plates rated with excellent capability to resist most rifle, shotgun, or handgun strikes. Nevertheless, its large size or weight limits its usability.
As a leading manufacturer and supplier of ballistic protection products, Hardshell produces a comprehensive range of solutions covering a variety of threat scenarios. The products that we manufacture find applications in a variety of high-risk scenarios. The most prominent ones among them include the following:
Mine clearance and bomb disposal operations wherein the threat are mainly from blasts
Combat situations wherein the threats are majorly projectiles.
Landmine detection and removal is considered to be a very dangerous operation. A large number of personal safety equipment are required to ensure the protection of personnel involved in the task/operation. And, these equipment become even more crucial in case a mine is accidentally set off. Some of such protection products include:
Helmets
Ballistic panels
Ballistic Visors
De-Mining Vests, and
Demining Aprons or Demining Suits, etc.
These recommended protection products can facilitate significant safety to the chest, abdomen, groin, and eyes from the explosion. We at Hardshell have designed a comprehensive range of ballistic protection products to shield against the blast impact of improvised explosive devices and munitions to reduce human injuries involved with bomb disposal. This is the reason to meet such requirements we have the following in our product profile:
Bomb disposal suits
Ballistic fragmentation bomb blankets
Ballistic panels, and many others.
We at Hardshell are committed to valuing and safeguarding all lives serving law enforcement and allied agencies. Our K9 Ballistic Vest for dogs is the most prominent example of the same commitment and capability. Our bullet-proof shields and ballistic goggles provide the highest level of protection against fast-moving projectiles during all types of tactical and military operations.
Ballistic protection is the term closely associated with personal safety products. It is all about ensuring the safety of personnel, particularly their bodies and eyes against projectiles of different sizes shapes and impact velocities. Ballistic protection is ideally required for soldiers, policemen, and general security staff. Apart from this, we also manufacture ballistic body armours which are available in a wide range of tactical options.